Greetings from Representative Director
Founded as the Jin Rope Store in 1939, we celebrated our 80th year in business in 2019. This would not have been possible without our customers and business partners supports.
In recent years, the business environment surrounding fishery industory has been dramatically changing due to the global warming and regulations for manine resources protection and "Fish-farming fishery" will definitely play a significant role in fishery industory in the future. The number of fishers starting sea farming is on the rise at the moment in Aomori. We are commited to make every effort to support such fishers with every little help.
We would like to ask your redoubled guidance and support.
Keita Jin
Representative Director,
Jin Fishing Net Co., Ltd.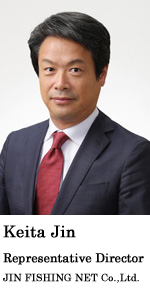 Company Profile
Company Name
Jin Fishing Net Co., Ltd.
Head Office
Tonyamachi 1-15-26, Aomori, Aomori 0300131 JAPAN
TEL +81-17-738-4411
FAX +81-17-738-4013
URL http://www.en.jin-fn.co.jp
Date of Establishment
September 15, 1939
Date of Incorporation
December 1, 1969
Capital
JPY30,000,000.00
Fiscal Period
February
Major Banks
Mizuho Bank Aomori Branch・Aomori Bank Tonyamachi Branch・Michinoku Bank Head Office
Board of Directors
Mr. Keita Jin, Representative Director
Mr. Toshio Hanada, Senior Managing Director
Mr. Isao Jin, Board Chairman
Mrs. Rika Jin, Director
Company Auditor Mitsugu Okubo
Associated Company
JV Co., Ltd., VINEX Co.,Ltd.(Main production base located in Vietnam)
Location of Head Office